---
If you're looking for hope in this year's election, you might want to look at where Main Street is putting its change.
With the doors opened wide by ever-loosening campaign-finance loopholes via Congress, committees and a few devastating SCOTUS decisions, corporations are throwing so much speech into the 2012 election that it is set to easily smash 2008′s astounding record of $5,300,000,000. Obama alone is already at $600,000,000, and rumor has it, he's set to spend $1,000,000,000.
Norman Solomon, a popular author, activist, and California District 2 candidate hoping to win a seat occupied by retiring progressive Rep. Lynn Woolsey, is betting that delivering a strong progressive message with a down-to-earth humility is the right formula to earn people dollars — money from the people who actually enter the booth, punch the chads, and proudly live with the consequences.
Here's a highlight video I made of the interview (1:40 run time):

"There's a myth that you've got to take PAC money and lobbyist money, work your way up the ladder by taking those bucks in order to get elected. Well, tell that to Bernie Sanders, getting to the Congress, getting to the Senate, over and over again without taking PAC money." He mentioned Paul Wellstone, who like Solomon had never been elected to office before a run for a seat in Congress, was outspent 7 to 1, but his support was loud and clear from boots on the ground. "It can be done, if you believe in the grassroots."
Indeed, Solomon has garnered the support of all major progressive political organizations. His reputation as someone who literally wrote the book on how government deception has earned the campaign $750,000 to date. But, come on, with each House-seat winner spending an average of $1,500,000 million on their campaign in 2010, with some House candidates having spent $14,000,000 already, how can he expect to do this on a dime?
"I was born at night, but not last night," he quipped. "It takes money to win elections, but that's not the most important point."
Solomon said he's been able to get support from believers not only from his district, but from individual donors from all over the country who support his message. "I can vote for them, and our values. Progressive values. We don't want perpetual war, we don't want Wall Street dominating Main Street, we don't want environmental degradation because the corporations are so damn powerful… We don't have money for healthcare, education, housing, good green jobs, environmental protection, yet the Pentagon is spending way beyond its needs, on borrowed money. People know we need to change that, but you don't see that happening in Washington."
Can his 1000+ volunteers be enough to beat out his opponents? Both contenders have raised over a million each. A safe bet is that millionaire novice Stacey Lawson will come through, as she's willing to spend the most, and is footing the bill of her own campaign. But in a state where Meg Whitman, the California candidate who spent more money on her own losing gubernatorial run than any self-funded candidate for any office in world history — $50 for every vote she got — Solomon may just come out on top.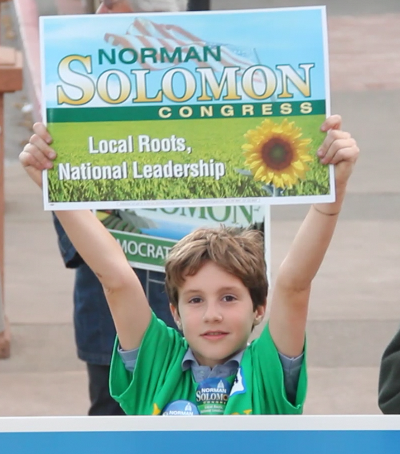 - republished with permission from Ben Zolno